Global warming practices at Uttara Kannada!
If one chooses some small village, or big town, as touristic destination, one can anticipate to witness extensively, by and large, the best practices for intensifying global warming.
In the morning, while heating the water for bathing, or later, while preparing food on the choola, plastics are widely burnt.
The municipal or gram panchayat sweepers do their best to incinerate all kind of swept trash, either in the dustbins themselves, or at any convenient corner.
When they don't, residents, trained for long time in this way, they do it by themselves.
If the visitor questions any municipal officer or any PDO, they will proudly recognize this to be the "no option" solution to dispose garbage.
Not entirely, because if the visitor walks slightly away from towns or villages, he will appreciate the magnificent landfills actively providing the required amount of methane to increase the global warming by some degrees! Most of them burning day and night.
Regional State Pollution Control Board, even if alerted by individuals or NGOs, is keen to keep these best practices …
Who is responsible for this?
Who is in charge to check the good implementation of the rules?
Until now no one has checked, no fines have been defined or applied, there is full lack of adequate enforcement.
How can the rules be effectively implemented without the correspondent penalties for their violators?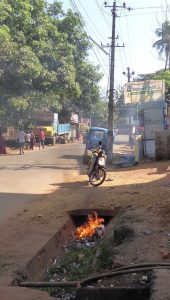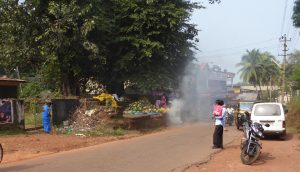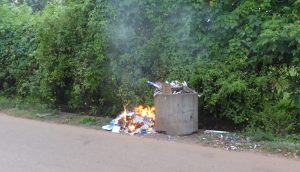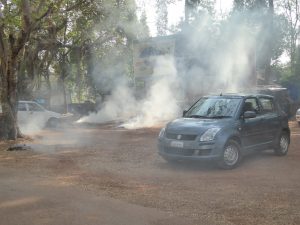 Recalling the words of Narendra Modi:  climate action is an article of faith, saying that inaction would be a crime against future generations.
inaction would be a crime against future generations
Nature is dying, 
Actually, inaction is a crime committed every day by our administration, by our Officers, by our elected, by our politicians.
Every day!
Here, at rural India, we are beating pollution burning garbage.
Day after day, Gram Panchayats and Municipal Corporations are lighting thousands of fires to get rid of trash.
They do their bit to speed up the increasing of global warming.
Citizens follow their example and they fire any nearby pile of trash early morning, or late evening, with the complacent blessings of all Civic Bodies.
Anyway it is Kali Yuga, right?