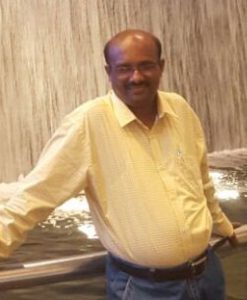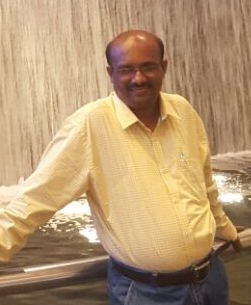 Jay Kubal was born in Chandigarh, Punjab, 48 years ago, as his father was there serving in military force. Later he was brought up in Alvedande, doing his Primary, High School and College at Kumta. He did a Hindustan Sangita course and he was then, and for quite some time, performing drama.
After finishing his Bachelor of Arts degree (B.A.) he decided to serve the society, namely implementing fishermen welfare schemes of Karnataka and Central government in coastal Karnataka, giving also para-legal advice and support.
He served in the fisheries field being, among many others tasks, the President of Kumta Fisheries Society, Vice-President of North Kannara District Fish Federation, Secretary of Coastal Karnataka Fishermen Action Committee, Mangalore, member of National Fish Workers Forum, Delhi.
Currently he is the District dealer of Yamaha outboard engines and several other fishing equipments.
Jay Kubal joined the Rotary Club of Kumta by 2008 being elected as President for the 2015-16 term.
Through all these functions he keeps always till today with Fishermen community.
His main hobbies are singing, reading kannada novels, writing articles …
He is involved in Khushi Parisara because he is concerned with the dramatic increasing of global warming of our environment, its pollution (particularly marine one) and the crucial need to create general awareness about these issues.
His guiding principle in life is "BE A GIFT TO THE WORLD!"