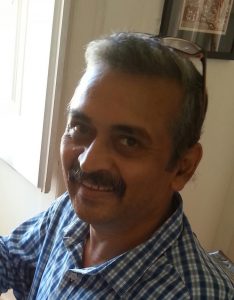 Kedar Shende, 48 years; 20 years background of Ayurveda – consultancy and teaching.
Conversant with movements and happenings in the field of Ayurveda – modern practice, research as well as traditional practice.
Taught and supervised students of Ayurveda in Europe and Israel for last 10+ years.
Founder member of Aryavarta Ayurved Anusandhan Ashram for studying, practising and research in clinical Ayurveda and allied fields like ayurvedic pharmacy.
Worked as team member of projects with CHAM, Lisbon.
Interests include working with ecology related projects, preservation of indian traditional knowledge, cooking.