Khushi Parisara has made repeated requests to PDO "to take a plastics zero-tolerance stance  at Gokarna, urgently", also many appeals to the Sarpanch to "urgently provide the bye-law with the needful penal framework for enforcement of the plastic ban ruled by the Plastic Waste Management Rules, 2016, because, unless there is a strong penal framework, in general, it is easier for people to adjust than to change.
This is the embedded cultural, social and psychological value that is at stake now.
Elected members have to lead the way, they have to model public behavioural change through good example.
As well as officers, local bodies workers, etc …
A psycho-social audit clearly shows that educated people that know and understand the dramatic situation, that are aware, mindful and care about it, they avoid to use plastic carry bags, plastic cups, water bottles, plastic mats. They rather use cloth bags, they carry their own water from home, they ask for paper packaging, etc …
New rich people, with access to money but unfortunately not to education nor understanding, they request plastic carry bags at all times and places, they buy bottled water and use plastic containers at their parties, they throw all away anywhere, anytime. Because they have money but not knowledge, and they believe that they better show their status through the "use & throw" model.
With the heavy daily floating visitors population this is strongly impacting Gokarna environment producing a massive pollution; also a huge waste of resources.
Without any response from elected body and PDO, the 21th April Khushi Parisara started a Plastic Bottles Campaign for minimising the high pollution produced by the imploding "use and throw" practice of water and juice consumption.
If plastic bottles are not collected separately from the rest of the waste they finish in the landfill, as by now.
To remediate this situation, Khushi Parisara decided to launch a campaign for collecting plastic bottles.
After observing what is conceived around the world for collecting them, as for instance: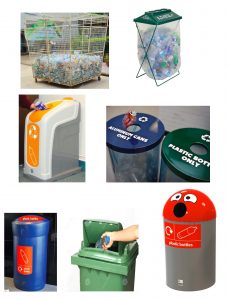 We decided to create a simple and almost instantaneous collecting point, that looks like this: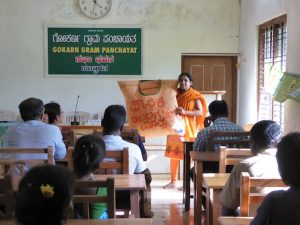 Geetha Naik, Khushi Parisara,  after deeply elucidating  the importance to collect as much plastic bottles as possible, and to reduce the use of plastics, expounded the need to change new ingrained practices concerning their consumption and the "use and throw" system.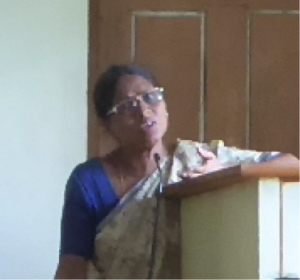 The president of Gram Panchayat, Mrs. Mahalaxmi Bharti, to whom solemnly was handed a sample of the "collecting bins" , was invited by Khushi Parisara to support and commit to the venture. However, unfortunately,  she remained aloof.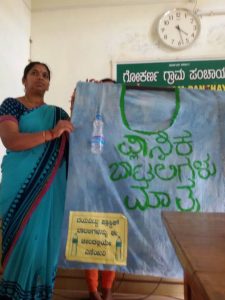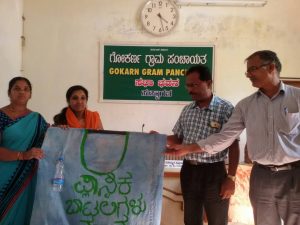 The initiative was appreciated by the Taluka Executive Officer, Mr. Gunagi, who clarified that there is provision for waste management, invited PDO to enforce the rules, and recommend the elected body to comply with the Panchayat Raj Act.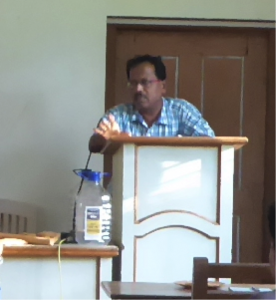 The Taluka Health Officer, Dr. Ajnya Naik, explained some health problems due to improper waste management, especially the burning of plastics and clogging of drains. Moreover, she suggested people to reduce the production of waste changing current luxury use & throw practices.
Dr. Jagdish, strongly denouncing the effects of plastic pollution in many sectors of life and in many places of Gokarna, recommended compliance with the rules and the high interest of environment.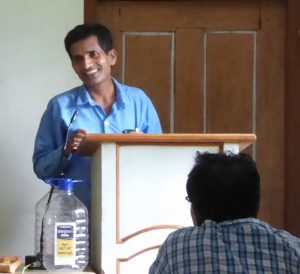 Along this venture to collect plastic bottles, a drive to collect as many cells (batteries) as possible was launched by Roopa Bhatti, Khushi Parisara: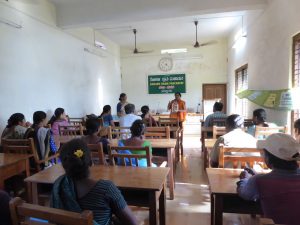 at an improvised collecting point: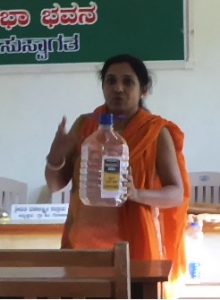 Actually, all the improvised collecting points were made with recycled materials.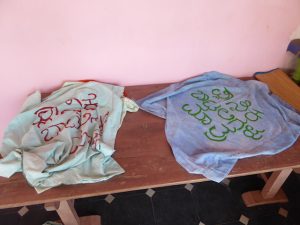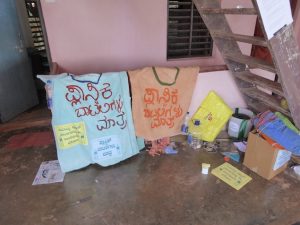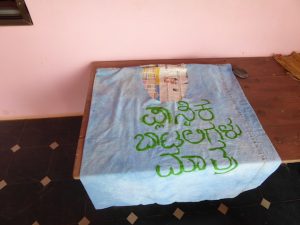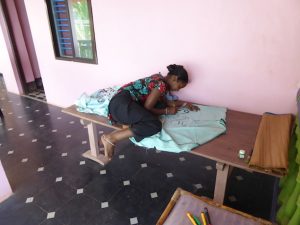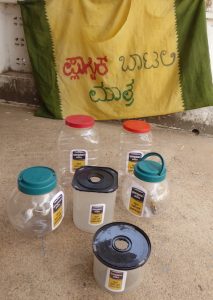 Some have been experimentally fixed by Shivaratri.